Printed Brochures
Brochure and Pamphlet Printing
Entice more customers with informational and captivating brochures. These custom-made brochures are perfect for marketing your business during events. Pamphlets help in increasing sales, launching new products, and increase brand awareness. Your clients keep it to know more information about your business.
Highlight and organize information by using panels and folds.
Choose between 3 folds: C-fold, Z-fold, and half-fold.
Available in different weights and stocks.
Designs come in various stocks and sizes.
Shipped pre-folded so you can use it right away.
Description
Communicate with your audience!
Engage and capture their attention by using personalised printed brochures. Tell them about your brand, and how it will benefit them.
When you want to expand your target market, you have to make sure that the promotional tools you use represent your brand's image. We can help you in achieving the perfect look and feel you're aiming for. Our easy-to-fold brochures let you share more information about your business.
To achieve the look you are going for, you can choose various sizes, and paper stock options. When you receive these, all of them are folded already.
For a personalised look, you can choose from fold sizes, paper stock, and weight.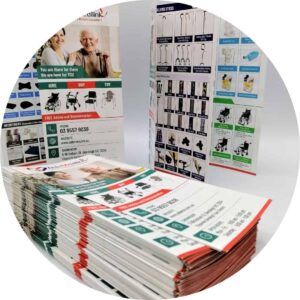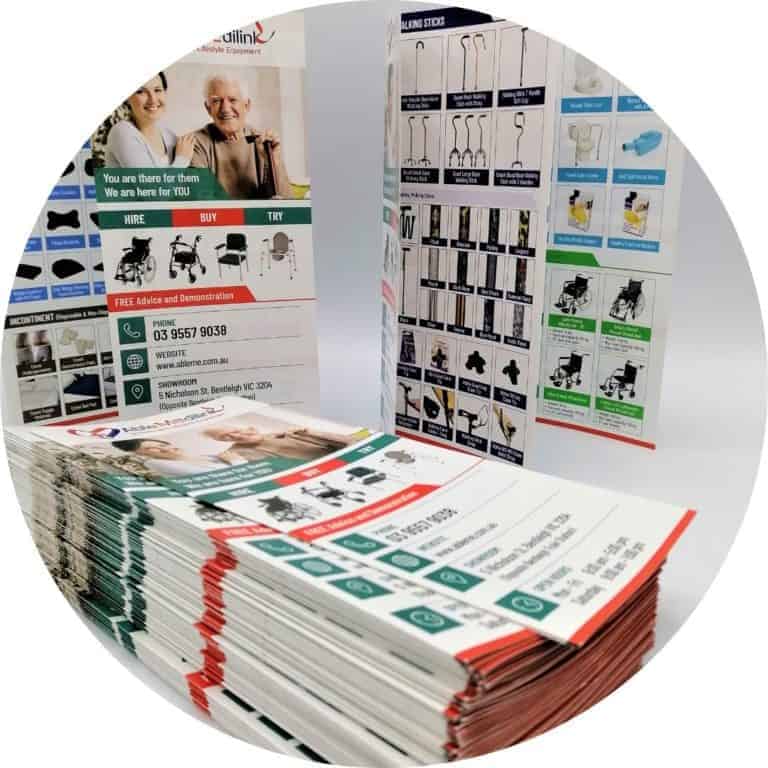 Choose your preferred fold:
C-Fold:

Take less space making it an ideal counter display. It is perfect for takeaway businesses, hotels, travel agencies, and restaurants.

Z-Fold: Used for maps, infographics, and other visual content. Perfect for mailing, it can fit inside a standard DL envelope.
Half-fold: Preferably used for product guides, comparison tools, and business presentations.

Choose your paper stock:
Matte finish has less glare. If you want more contrast and a smoother appearance this is perfect for you.
The glossy finish is shiny and reflective. Ideally used for vibrant colours, images, and photos.

Choose your paperweight:
Budget:130 gsm for matte and glossy
Standard: 150 gsm for matte and glossy
Premium: 250 gsm for matte and glossy

When creating your brochure:
Concentrate on one strong and main message and make a clear call to action.
Highlight important information by adding bullets and panels.
Make a "Menu" of all your products, services, and options.
Include your brand's social media accounts with contact info, and logos.

Suggestions for a professional look:
Use no more than three font sizes.
Understand your paper stock and coating. Go for thicker paper for more durability.
Use high-resolution images or photos.
Our printing process uses the highest quality paper stocks, inks, and varnishes. Barney's affordable brochure printing service will have your brochures printed, folded, packed, and shipped as a matter of priority and urgency.
To get the conversation started, you can hit us up using our live chat feature right here on-screen or call our discount brochure printing team on 1300 663 812.

Frequently Asked Questions (FAQ)
What are the sizes provided? Is it folded or unfolded?
All sizes shown are the size of the brochures when laid out on a surface and unfolded.
How many photos and pages, should I add in my brochure?
An impressive brochure must be highly visual. Use photos that can help you guide your customer about the product. Your pamphlet must be short and concise. It must concentrate on your main message. For further details, check out our How to Make Your Brochure. 
What should I include in my brochure?
Your brochure should include:
Cover – The cover should show the overall concept of your service or product. Add your brand's name and logo so customers can remember you.
High-quality Photos – To have a visually attractive brochure, make sure that you use 300 dpi resolution. Higher resolution guarantees a non-blurry photo when printing.
Features and Perks – You should focus on the selling points of your service or product. You can use bullets to list it down or break it down to several sections for smooth reading.
Call to Action – Add special promotions or vouchers in your brochure to increase traffic in your business.
Contact Details – Customers can reach you easily if you add your company's contact details and website.
Lastly, draw more attention to your brand at your next event with full colour printed brochures. Works well both indoors and outdoors and can easily be stored. This is an awesome marketing tool for all types of businesses.
Should you also be interested in other printed ideas for your sales promotion, then have a look at our super pricing for custom printed Counter Cards as well. When bundled with Folded Brochures 8pp DL size, you'll have the perfect promotion all set to go. To round out a promotion or launch event and make your brand really pop, then do check out our huge range of Branded Lollipops at our sister website Fast Confectionery. 
Do call our Customer Happiness Team today at 1300 663 812 or chat with the team on Livechat!
Only logged in customers who have purchased this product may leave a review.