You are excellent in what you offer, and you want to make your folded leaflet just as good, however, your expertise does not include design and marketing.
With so many things to consider during the creation process, it's very easy to end up with a messy, and confusing design that doesn't meet its purpose. Now, how can you create a brochure that is professional-looking yet, oozing with personality?
That's where we step in. We aim to give you a complete guide and tips that will help you achieve a brochure that generates a positive outcome for your potential and existing clients.

There are three simple questions you can ask yourself to determine your purpose and target market.
•    Who are they?
•    What can they gain from me?
•    What do I want them to do?
When you answer these questions it helps you create an outline from the selection of fold right up to the copy you create.
Who are they?
You need to build a client persona, start by determining the following: gender, age, potential or existing customers. Identify which segment will you distribute your leaflet to. How will you distribute it? Will it be via direct mail or by hand distribution?
Know the purpose of using the leaflet.  Is it to introduce your brand, or increase brand awareness through sales calls, events, and conventions?
What can they gain from you?
Observe your audience and determine what they need the most. A new customer may be interested in knowing more about you, while an existing client may be curious to know what is setting you apart from others. Every client needs details on how they can find you.
What do you want them to do?
Make sure you know what you want them to do next:
 •    Visit your shop
•    Order your newest products online
•    Be a loyal customer
•    Tell their family and friends

Now that you know who you're targeting with your folded brochures, it will be easier for you to craft high-value copy. Your copy should have these three parts:
•    Company profile
•    Latest offers and benefits of your product or service
•    Call to action
Company Profile
It's your time to tell more about who your company is and what your vision and mission are. Try to concentrate on one or two key points.
Product and Service Menu
Emphasise the key details about your business. Be clear on what your product and service are and how it will benefit them. If you are offering various products, goods, and services, present them in categories. It will make it easy to understand and will look organised.
Call to Action (CTA)
What action do you want your customers to make? Your brochure needs to have a call-to-action and clear intent.
Not all people will read your leaflet from cover-to-cover, so make sure you add your CTA in various locations. Don't forget to let them know how they can find you, how to contact you, and your operating hours.
For every section, remember the rules of copy:
•    Keep it short, concise, and straight to the point.
•    When writing, make sure you use the first person to personalise the text.
•    Use 3 to 4 lines per paragraph.
•    Use subheading, panels, and bullet points to segregate the information and make each item easier to understand.
Use each paragraph as an avenue to explain a benefit, address the needs of the customers, and answer a query. Make sure that each paragraph is not about the same thing.

Brochures are text-heavy, so, include smart visuals in your design.
The images you use will support your message, make it sequential. Allow your customer to go on a journey by looking at your leaflets.
You can highlight the following:
•    Logos
•    Images
•    Graphics 
Your Logo
The logo of your company serves as your brand's ambassador. It makes you recognised and helps you be the top-of-mind. Make sure your logo is high-quality or at least 300 dpi. When saving your file, we recommend using a vector file (es or ai) or pdf. Other high-resolution formats (png, ppt, jpeg) will also work.
Images
If you're shooting your photos, best to use a digital camera, wherein you can adjust the lighting and depth of field. You can also opt for hiring a professional photographer. You can also use a good smartphone that can take clear photos if you know how to. Lastly, stock images are also available online, just make sure you don't have the same photos as your competitors. The most important thing to remember is it has to be high-resolution.
Graphics
Make sure your design is clean and organised. But don't forget to be creative. See to it that the layout is eye-catching and easy-to-digest.

Once you have all your elements ready, it's time to focus on how you want them to look
like. Make the most out of it by selecting the:
•    Ideal fold
•    Ideal font
•    Ideal placement 
Folds
Bi-fold brochures are recommended when you want to showcase the benefit of your products and services through a large image.
Tri-fold brochures are recommended when you want to showcase various aspects of your products and services.
Z-fold brochures are a perfect choice if your goal is to feature images or graphs. You can use it for sharing bigger stories; or if you want to split your messages into various parts.
Take a look below at the types of brochure folds to help you with your design: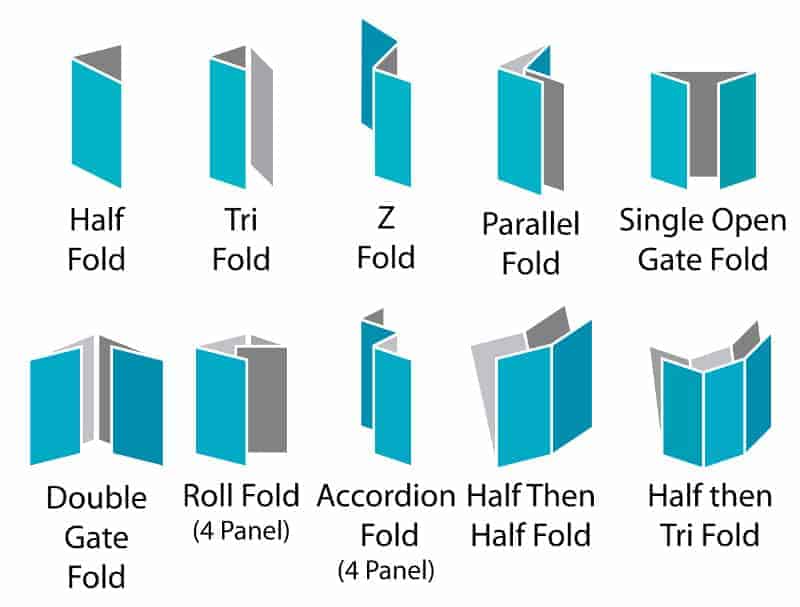 Fonts
For a clear and consistent feel, limit your choices to two or three font styles. Select one for style for the body and headings. Use a smaller size or a different font for the subheadings.
Placement of Content
The cover pages must convey your main message and be equally appealing to get the readers to open your folded brochure. It should be low on text and highly visual.

Most folded brochures are printed on these three types of paper stock:
•    Matte
•    Glossy
•    Recycled / Natural
Whichever type you choose it has its pros and cons that can either mute the effect you're trying to achieve or make it bolder.
Matte finish is perfect if you are aiming for a black and white or high-contrast color design.
Glossy finishes best works for designs and layouts which features large images and vibrant colors. It is very shiny and reflective.
Recycled paper or natural finish gives a rustic and natural feel. You can write on it and makes reading your text easier.

Try to draw or sketch ideas for you to start with. Plot how you would want it to look like by creating a mock-up, so you know how all of it will look together.
Create a 
sample fold
Use a sheet of paper and fold it in a common format, look at your choices, and try other folds.
Create a 
template
Select a fold, then jot down key elements that will be included in each panel. Try it with the other fold formats, so you can see which is effective and which suits your purpose.
Create a content layout
Print out your images, logos, and copy and plot them out. Find the balance in your content and spacing. Are the key points easy to locate? Once, you have achieved the right balance you can tape them up.
Reading 
your completed mock-up
Read your leaflet from cover to cover. Once you are happy with the flow of the story, ideas, and information, you can now print it.
Now that you have your personalised leaflet, don't hesitate to contact Barney's. Our Customer Happiness Team will be happy to make your mock-up come to life. Simply call 1300 663 812.